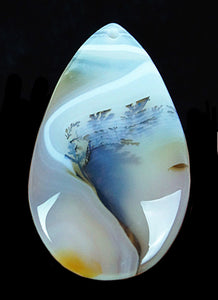 Translucent Dendrite Agate pear-shaped bead that measures 1.93 inches long by 1.28 inches wide by .28 inch thick.
Also known as Pyrolusite or Felsite Dendritic Agate.
Dendrite Agate meaning:
Dendrite Agate has a lot of different appearances.  This cabochon is milky opaque with black dendrites (a nerve-network appearance). 
Dendrite Agate healing properties:
It is considered healing for conditions with similar appearances: nervous system, root systems, branch systems.  An excellent choice for a gardener, a neuro-surgeon, or a genealogist.  Also called Tree Agate or Plentiful Agate.  Assists with any kind of growth and stabilization.  Great for students who need to follow thought development.  Also excellent for writers for character and plot development.
Peter Carl Faberge, the Russian jeweler best known for his exquisite Easter eggs, often used Dendrite Agate with Diamonds in his creations.
Dendrite Agate with this rich, milky luster is also called Dendrite Opal.