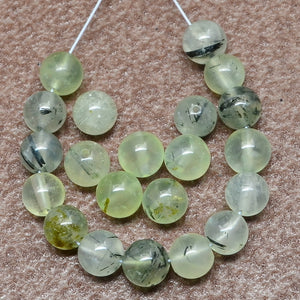 15 inch strand of round Prehnite beads.

Prehnite meaning:
Prehnite is the crystal associated with Archangel Raphael. 
Prehnite metaphysical properties:
Prehnite stone is known as the healing crystal for healers.  It is similar to Apophyllite in that it enhances psychic development, inner knowing, channeling and communication with your Higher Self.  Prehnite is also great for enhancing memory and feeling safe.  Excellent tool for lucid dreaming.  Prehnite generates a feeling of calm around and for hyperactive children. 
Prehnite healing properties:
Not only does Prehnite enhance connectivity with other realms, it is great for connective tissues.
Prehnite helps you release your resistance to your heart's desires.  It also releases resistance to letting things go so you can clear your past emotional attachments, clear your negative thoughts, and clear out the stuff you don't need anymore.  Aligns the will and the heart to clear out and clean up.  Helps your body release what is not needed, i.e., kidney stones, cysts, bacteria and scar tissue. 
Translucent A+ quality green Prehnite polished 5.7mm beads.