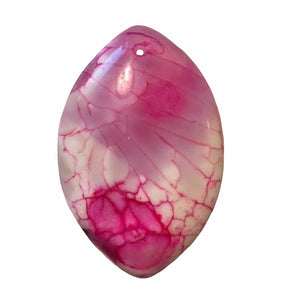 White Dragon Veins Agate with magenta dyed veins from Pomegranate juice.  This horse eye-shaped bead that has been drilled front-to-back at the center top. 
Dragon Veins Agate meaning:
Dragon Veins Agate is the right stone to wear during planning stages.  Especially when planning and visualizing the birth of a child.  Dragon Veins Agate assures a successful outcome to your plans, be they for a new business, home, investment, vacation, education or birth.