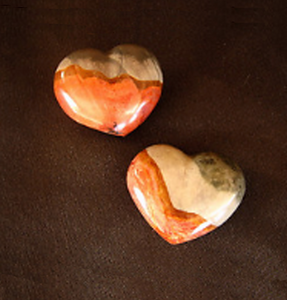 Polychrome Jasper 1.13 inch puffy heart. 
Meaning and Properties:
Colorful swirls of beige, grey, brown, blue and burgundy colored jasper.  Polychrome Jasper, also known as Desert Jasper, is a newly discovered crystal only found in Madagascar.  
Polychrome Jasper is excellent for stability and balance and is often recommended for issues with vertigo.  Polychrome Jasper is best used to physically align yourself with your path, your calling, and your most ideal spot on planet Earth.   It's easy to remember its purpose when you think of its colorations as earth and sea.