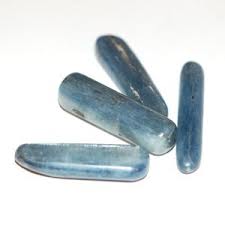 Kyanite Fairy Wand
Kyanite meaning:
This master crystal is named after the Greek word kyanos, which means deep blue. 
If Kyanite were a person, she would be a lovely water sprite or a mermaid that brings your visions and dreams to life.  She would represent the signs of Cancer, Scorpio and Pisces and relay messages to you from your subconscious mind.  Her skin would probably be light complected and her long hair would be braided as a representation of the subconscious, conscious and higher selves integration.  Comely and compassionate, her voice would be sweet yet powerful.  She would consider herself a muse to spiritual leaders and great sages.
Blue Kyanite properties:
Especially helpful for individuals born from July 3rd to July 13th.
This is a small fairy wand about an inch long.  
It attracts opportunities for love, marriage, recognition, help from superiors, and all of the resources needed for the fulfillment of your heart's desires.