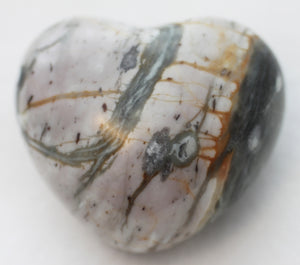 Picasso Stone puffy heart weighs 2.5 ounces.  Measures 44.8mm or 1.75 inches at widest point.
Picasso Stone is the stone of the missionary or reformer.  It is ideal for the individual who works for the good of others.  This crystal helps visionaries, healers, and idealists to help others in a healthful, detached manner so that they do not absorb the fears and worries of those they help.  Overall, this is an excellent stone for shifting one's attention from the negative to the positive.
Great stone for Gemini people born between 11 and 20 degrees Gemini.
Product Code 10-B