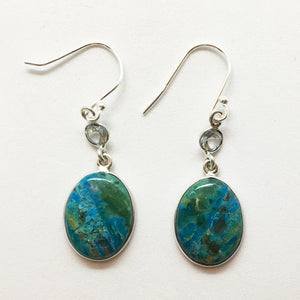 Sterling Silver Peruvian Blue Opal earrings with Blue Topaz accents.  Each earring measures 1.82 inches long from the top of the ear wire.  Each of the Blue Opal cabochons measures 14.5 by 19mm.  The 5mm faceted topaz gemstones are round.
Peruvian Blue Opal meaning:
Peruvian Blue Opal is one of the best stones to wear when you need to be smart, eloquent and witty.  
Topaz meaning: 
Blue Topaz brings opposites into harmony, so it is a natural recommendation to insure a happy marriage or business partnership.  Also great for mediations and any kind of position resolution to a long-held dispute.  Physiologically, Blue Topaz balances the emotional body and calms inflammation.  It is also recommended for cell regeneration, rejuvenation, and third chakra activation and balancing.  Expose your pendant to sunlight for ten minutes or so every so often to enhance the Blue Topaz.  Even better, expose it to sunlight through blue film.  Ideally, keep it on a piece of quartz when you don't wear it.