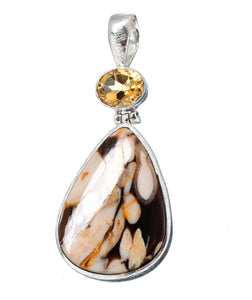 Peanut Wood Jasper pear-shaped cabochon and faceted oval natural citrine stone in Sterling silver.  The cabochon itself measures 22.8mm (at widest point) by 31.2mm and the citrine oval measures 8mm by 10mm.  The pendant measures 1 inch wide and 2-1/4 inches long.
Peanut Wood Jasper metaphysical properties:
Peanut Wood Jasper attracts the energy needed to be prepared for the unexpected, especially around promotions and/or raises, inheritance, and recognition.  
Wear your Peanut Wood Jasper pendant so that you always feel the confidence and faith you need to feel in such situations.  Peanut Wood Jasper makes it easy to feel enthusiastic and alive while patiently waiting for what is due you.
Citrine gemstone benefits:
Natural unheated Citrine has an overall tonifying effect.  Wear citrine when you need to safely detox.  Citrine also tends to amplify cell regeneration - a must after surgery or a burn.  Very desirable as a psychological tool as it tends to turn off self-destructive inclinations.
Peanut Wood Jasper meaning:
Peanut wood started during the Cretaceous period as conifer trees on land in Western Australia that died and got carried by rivers across Australia as driftwood.  A type of marine clam larvae smelled the wood and attached to eat to feast.  As they developed, they chomped out tunnels throughout the mushy wood.  Meanwhile, in the same river mouth location, billions of dead tiny silica shell covered plankton called radiolarians accumulated in layers of white sediment over the wood, settling into the worm holes.  As the shells dissolved, the silica from the shells replaced the wood pulp turning the driftwood into fossils!
Peanut wood is usually dark brown to black in color with a white or cream egg-shaped pattern.