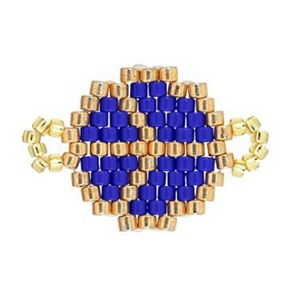 Add a fun 60s edge to your beading projects.  This is a connector bead link that has a whole focus of its own.  It is handmade out of Japanese seed beads. 
Looking for bracelet connectors?  Works great on a bracelet, necklace, center of a chocker or even as a ring.  Works great as a chain connecting link with chain too.  How great is it to have a necklace connector bead that is also a design element?  Connectors for jewelry making, such as this necklace connector link, are such big time-savers!  
I love unique jewelry connectors and links.  This glass connector beads link features a brick stitch peace sign symbol in dark blue and gold colors.  Measures 15mm wide by 22mm long.  The holes of the links are 2mm wide.  The beads in this bead chain connector are high quality beads by Miyuki.  Just having one of these bead connectors links hanging out in your supplies inspires new design ideas.