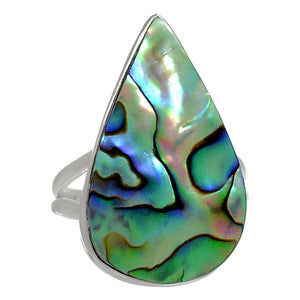 The lining of the abalone paua shell is called mother-of-pearl.  This is an exceptional silver mother of pearl ring.
Striking Paua Abalone ring that is full of psychic energy!!!!   Gorgeous ring in size 6-1/2.  Abalone shell portion measures 15.2mm by 24.8mm.
Abalone Shell or mother of pearl meaning:
Abalone Shell is used in a puberty ritual where it is worn on the forehead of the girls as a symbol of transformation.
Abalone Shell metaphysical properties:
The many colors of this shell-crystal make it easy to remember that it is for activating more aspects of yourself into consciousness.  Also used in fortifying the heart and spine.  Improve the assimilation of protein and enzymes that enable carotene to be better utilized as an anti-carcinogenic.