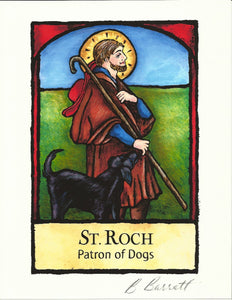 Sweet, hand-signed, full-color print of an original illustration by Santa Fe artist, Barbara Barratt.  Richly printed on light-weight card stock with a companion sheet of cardboard making it ready for framing.  
This print is of Saint Roch, the patron saint of dogs.  The part of the story of St. Roch that I know is that his mother was barren until she prayed to Mother Mary, which lead to his conception.  He was born with a birth mark in the shape of a cross on his chest.  Both of his parents died when he was twenty years old.  His father had been the governor of Montpellier.  Upon their death, he gave away all of his worldly possessions and traveled to Rome as a beggar.  He arrived to find the Plague epidemic in full swing and immediately began to care for the sick, which he miraculously healed with the touch of his hand.  He then traveled on to Piacenza, where, he too, contracted the plague.  He was run out of town and forced to live in the forest.  He made a hut out of sticks and leaves and water sprung out of the ground next to it.  He would have died had it not been for a nobleman's dog that delivered loaves of bread and licked his wounds.  
Saint Roch, Patron Saint of Dogs dog art print measures 8.75" by 11".  it's one of the more colorful dog prints.
Great addition to collection of dog art or dog prints gallery.
Product Code 3