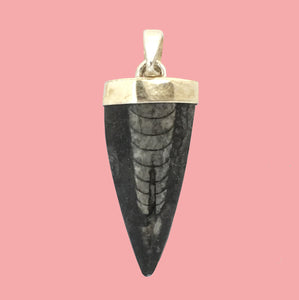 Orthoceras fossil shell pendant.
Orthoceras meaning:
The ancient Orthoceras was a mollusk that is a modern day squid's ancestor.  Orthoceras were around over 400 million years ago.
The name Orthoceras translates as straight horn.  This makes sense because the Orthoceras had a straight, long cone-shaped shell.  T
Pendant dimensions including bail: 1.6 inches long by 0.58 inches wide by 0.22 inches thick.