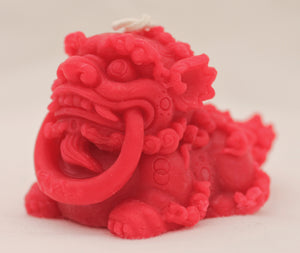 Ornate Foo Dog with Mouth Ring 1-7/8" Red Beeswax Candle
The tradition in China is to protect doorways with a foo dog placed at each side of the door.  They are thought to insure powerful protection.  They not only flank the doors of private homes, but temples, imperial palaces, government offices, and bridges.  Officials and Chinese aristcrat denotes his status by the number of curls found on the head of his foo dogs.   The highest level is 13 curls.  Each lesser status reflects one less curl down to level seven.  This foo dog candle has twelve curls on its head.
This is a beautiful, fairly ornate candle with a lot of flourishes.  Wonderful, natural bees wax colored with natural coloring and a cotton wick.  Beeswax is naturally hypoallergenic, burns clean (no soot) without dripping and burns longer than parafin.
We call them foo dogs, but in China they are just called shi, which means lion.  And, as you can see, this little guy is much more of a lion than a dog.  Measures 3" by 2" at the base and 1-7/8" high.  Very ornate.  Hand-made, one at a time, but there may still be some minor blemishes.
The teeth, claws and eyes warn intruders of the powerful defense the lion is prepared to use.