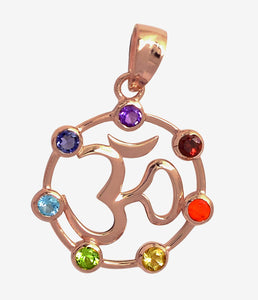 Om symbol chakra pendant with amethyst, iolite, blue topaz, peridot, citrine, carnelian and garnet. Plated with 1 micron thickness of Rose Gold.
Amethyst is enhances intuition and activates the heart and third eye chakras. Hold just before retiring for help with sleep. Great for issues concerning pituitary, thyroid, thymus, and pancreas. Balances metabolism. Dissolves fatty tissue. Also recommended for left/right brain hemisphere imbalances, i.e., epilepsy, dyslexia, coordination. Fantastic crystal.
Amethyst turns into Citrine (golden color) when exposed to heat or light, so keep your amethyst off your window sill to preserve its wonderful purple color.
Iolite is the combined embodiment of the signs of Leo and Sagittarius with a dash of Saturn. It attracts experiences and adventures that systematically reveal the hidden mysteries of existence. Wearing Iolite will attract philosophical, introspective, formal, intelligent, patient, authentic, honest individuals.
Blue Topaz brings opposites into harmony, so it is a natural recommendation to insure a happy marriage or business partnership. Also great for mediations and any kind of position resolution to a long-held dispute. Physiologically, Blue Topaz balances the emotional body and calms inflammation. It is also recommended for cell regeneration, rejuvenation, and third chakra activation and balancing.
Peridot is highly under-rated. It stimulates cell regeneration all throughout your body. Wearing this crystal on a regular basis gradually triggers the release of all the toxins stored in your body. You will also be in better communication with your higher self. Vibrational remedies work better, such as homeopathic remedies, with peridot on. Also increases clear awareness, inspires optimism, and encourages patience.
Citrine has an overall tonic effect. Wear it if you need to safely detox. Amplifies cell regeneration - a must after surgery or a burn. Very desirable as a psychological tool as it tends to turn off self-destructive inclinations.
Carnelian has a powerfully fiery, yet grounding energy that activates the first, second and third chakras. This connection makes it an excellent self-esteem builder, ideal if you need help voicing your opinions or asking for what you really want. This is the stone of empowerment and courage.
The word garnet comes from granatum, which is Latin for pomegranate. Garnets are all about getting comfortable with fame, enjoying life to the fullest, and being honored by your peers. Great gem for those in the entertainment industry. Helps introverts feel more comfortable in public. Physiologically, it strengthens your thyroid, heart, liver and kidneys. Helps alleviate sexual issues.