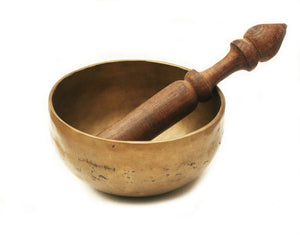 Old Brass Tibetan singing bowl that is also known as a standing bell.  This bowl was made in the 1950's and carried out by the Tibetan family who owned it during the exodus  in 1959.  It has a beautiful resonance.  A singing bell bowl was often used to signal the beginning and ending of a meditation.
The thickness of the bowl wall varies from 3 to 5mm.  As tends to be the case with old Tibetan singing bowls, the bowl itself does not sit perfectly flat.  Measures just under 5" in diameter and 2-3/8" high.
An old brass singing bowl produces harmonic overtones creating an effect that is unique to the instrument.  The subtle, yet complex multiple harmonic frequencies, are a special quality caused by variations in the shape of the hand-forged singing bowls.
A hand-made striking stick is included.  
To play, hold the bowl with one hand and guide the stick slowly along the outside rim, maintain a firm, consistent pressure with the other hand.  You will get the most sound if you hold the bowl on yoru fingertips.  The least contact with your hand, the better as that allows more bowl surface to resonate without the sound being absorbed by your fingers and hand.