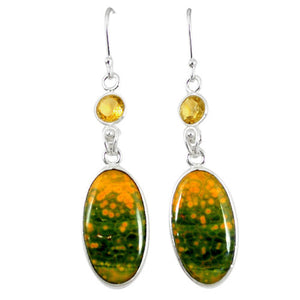 Ocean Jasper is a beautiful stone.  The 6mm faceted citrine rounds are all natural, not enhanced.  Ocean Jasper is also called Sea Jasper, Orbicular Jasper and Jasper Stone.
Ocean Jasper is mined along the tidal shores of North East Madagascar. 
Ocean Jasper meaning:
Wearing Ocean Jasper jewelry facilitates animal communication.  
Untreated Citrine healing properties: 
Citrine has an overall tonifying effect.  It helps to wear natural Citrine jewelry if you need to safely detox. 
Citrine amplifies cell regeneration - a must after surgery or a burn. 
Sterling Silver settings.  Each earring measures 2.25 inches long from top of the ear wire.