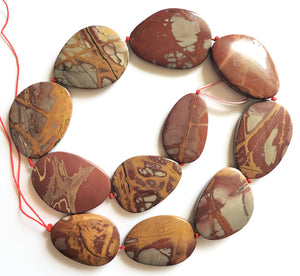 A strand measuring just over 16 inches of natural, authentic Noreena Jasper beads.  The beads are hand-cut in free-form style.  They are arranged on the strand from smallest to largest to smallest with the smallest measuring 28x24mm and the largest measures 44x32mm.  Outstandingly gorgeous beads with a great polish.  Typically, there are eleven beads per strand.  The picture shows three strands of gemstone beads to give you an idea of the drama you can create.
Noreena Jasper healing and metaphysical properties:
Noreena Jasper attracts major positive energy for positive outcomes, such as winning, settlements in your favor, awards, approval, and acknowledgment.