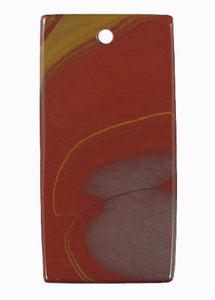 Natural, authentic Noreena Jasper from Australia.  Also known as Australian Red Picture Jasper.   
Great pattern on this bead.  Measures 18.1mm wide by 36.2mm high by 6.1mm thick.  Drilled at the center top, front-to-back.
Noreena Jasper healing properties:
Noreena Jasper attracts major positive energy for positive outcomes, such as winning, settlements in your favor, approval, and acknowledgment.