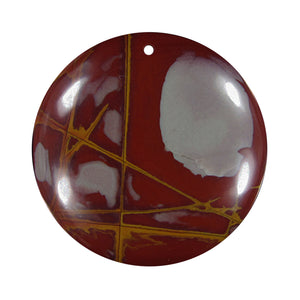 Natural, authentic Noreena Jasper bead from Australia.  
Also known as Australian Red Picture Jasper.  This Noreena or Australian Red Picture Jasper bead measures 46mm or 1.81 inches in diameter and drilled at the center top, front-to-back.  
Noreena Jasper or Red Picture Jasper Stone meaning:  
Noreena Jasper is mined from the Jeerinah formation in the Fortescue group in the Hamersley basin in Pilbara, an area in western Australia north of Perth.  Also where Pilbara Jasper comes from.  Because it is mudstone that has silicified, it breaks apart in jagged, angular chunks, like corners and triangles.  When the pieces are sliced open, all kinds of beautiful abstract designs are revealed.  The sole miner of Noreena Jasper reports that this geological formation and Munjina Stone are the same and date back to 2765 to 2687 million years old. 
Noreena Jasper / Australian Red Picture Jasper healing properties:
Noreena Jasper is one of the important jasper healing stones because it attracts major positive energy for positive outcomes, such as winning, settlements in your favor, approval, and acknowledgment.