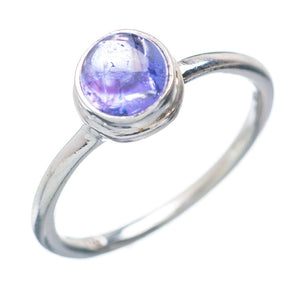 Genuine Tanzanite ring.  Tanzanite is more accurately termed Blue Zoisite ring size 8.
This is natural Tanzanite that has not been heated, stabilized or dyed, which is why it is more reddish-purple than bluish.  Genuine Tanzanite's violet color is from natural thermation underground, not commercial furnacing.  Mined near Mount Kilimanjaro in Tanzania.  The Tanzanite cabochon measures 6.5mm in diameter.
Tanzanite healing properties:
Tanzanite brings its owner recognition, rewards, awards, and acknowledgement for achievements or accomplishments that follow a long stretch of challenges, oppositions, legal battles, or enemies.  Imagine the outcome you want when you wear it.  Helps shift attention from the problems at hand to the happy resolution.  
This tanzanite cabochon ring is a great gemstone for air signs.