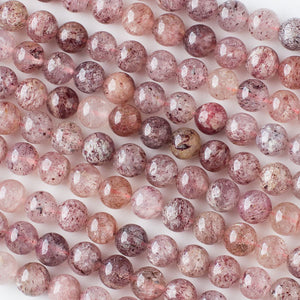 Natural, 8mm round Strawberry Quartz 16 inch strand of beads.  The hues range from light rose-tinged quartz where you can see the hematite needles inside to a dark burgundy color.
Strawberry Quartz is quartz permeated with red hematite needles.  These Strawberry Quartz beads encourage new romance and love.  Think of them as a love magnet.  When worn, they attract love, nurturing, important people, and good fortune.  
They are considered the good luck charm stone of sculptors and leading actors because of its strong Sun energy.
Mined in Madagascar.