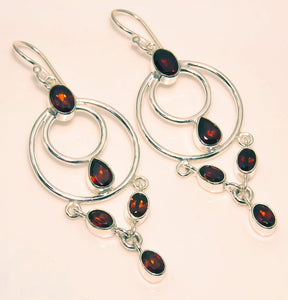 Spessartine Garnet earrings comprised of faceted ovals and pears set in sterling silver. 
Enchanting design.  Each earring is just under an inch wide and 2-5/8 inches long from top of wire.  Sterling silver garnet earrings that are surprising lightweight.  All natural; not irradiated, stabilized or dyed.  
Spessartine Garnet properties:
Stimulates the 2nd, 4th and 5th chakras.  Genuine garnet earrings are excellent for heart and liver.  Very helpful for shy types.  Allows you to be of service while still caring for yourself.  
Natural garnet gemstone earrings are a great gift for caretakers.