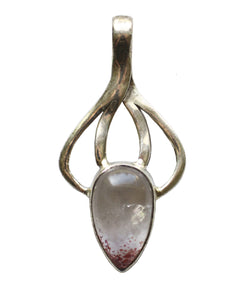 Natural Lepidocrocite Quartz pendant in a petal shaped cabochon set in a Goddess sterling silver setting.
1-1/2 inches long by 3/4 inch at widest point.
Lepidocrocite is derived from two Greek words: lipis for scale and krokis for fibre.  It has this name because it tends to forms in layers that look like scales.  It forms when a material that contains iron is under water and starts to rust.  It is the sprinkling of reddish-brown at the bottom of the quartz. 
The combination of Lepidocrocite Quartz is about happy changes - changes for the best.  The combination of quartz and Lepidocrocite engenders positive thinking so that you can stand behind your convictions with passion.