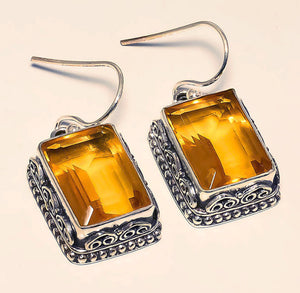 Faceted, natural Citrine gemstone set in sterling silver filigree earrings.  New, but made to look like vintage citrine earrings, each earring measures 1.3 inches long and 0.55 inch wide.
Citrine meaning:
There is a lot of Citrine in France.  The name citrine is derivation of a French word, citron, which means lemon.  The gemstone is named after the fruit lemon because of its color.
Citrine metaphysical properties:
Citrine stone stimulates or activates the mental body and intellectual powers.  Citrine jewelry enables the wearer to formulate thought forms with greater clarity.  
Citrine healing properties:
Citrine has an overall tonifying effect.  Wear citrine if you need to safely detox.  Citrine also tends to amplify cell regeneration - a must after surgery or a burn. 
Citrine is a very desirable psychological tool as it tends to turn off self-destructive inclinations.