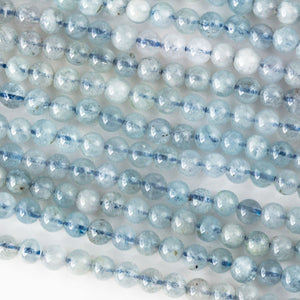 One 16 inch strand of 4mm round natural Aquamarine beads.  One strand of faceted aquamarine beads typically include 97 beads.
Aquamarine gemstone meaning:
Genuine aquamarine beads strengthens the thyroid, spleen, liver and kidneys.  Stimulates the white corpuscles. 
Feeling disoriented?  Lay your Aquamarine beads over your abdomen.  (Where's the surgical tape when you need it?)
Have a hard time making conversation on dates or at a party?  Hold your Aquamarine beads over your throat for a moment before your entrance.
Writer's block?  Wear Aquamarine to give you the clarity of expression you need.