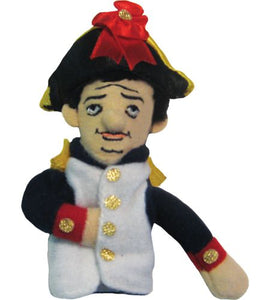 Napoleon Bonaparte magnetic finger puppet about 4 inches tall.  Great hostess gift and a sure hit as a fun birthday present that is also a conversation-starter!
If Napoleon knew he'd become a puppet, he'd have wanted to be this one. Our Napoleon Bonaparte Finger Puppet is true to his original diminutive form - right down to the epaulettes. Though just four inches tall, we went all out in designing this puppet. He wears his formal uniform, famous bicorn hat, and stands with his right hand tucked into his jacket. Slip Napoleon on your finger and get ready to invade Europe - or at least your co-workers' cubicles. He's also magnetized, so he can be stuck on your refrigerator or filing cabinet between campaigns.
UPG finger puppet or philosopher finger puppet.