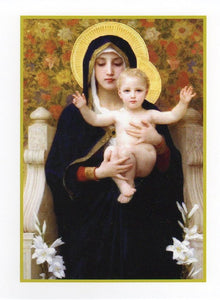 Beautiful original illustration of Mother Mary and Jesus art as a baby..  Four-color-process 8.5 inch wide by 11 inch long print printed on high-quality photo paper.
Ships flat with cardboard in plastic sleeve.  
Baby Jesus and Mary print has a prayer on the back called A Child's Prayer to Mary of the Lilies: "O Virgin Mary, My Mother. I give to your Immaculate Heart, my body and my soul, my thoughts and my actions. I want to be what you want me to be, and do just what you want me to do. I am not afraid because you are always with me. Help me to love your Son Jesus, with all my heart. And above all things, take my hand in yours so I can always be with you. Amen."