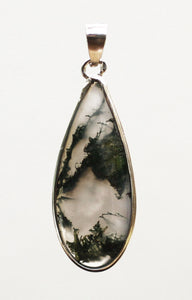 Green Moss Agate pendant in a teardrop shape in a sterling silver frame that measures 1-5/8 inches long from top of bail by 9/16 inch wide.
Great specimen of Moss Agate, but the quality of the silver frame where it comes together at the top is imperfect, hence the lowered price.
Green Moss Agate properties:
Moss Agate is an excellent stone for you if you know that you want more than just wealth, luxury and worldly success.  Moss Agate opens, clears, grounds and balances the lower chakras so that you can safely expand your higher chakras, inviting in more love and affection.  Moss Agate releases regrets about the past.  Moss Agate is a Venus stone.
Moss Agate also increases awareness with clarity, inspires optimism, and encourages patience.