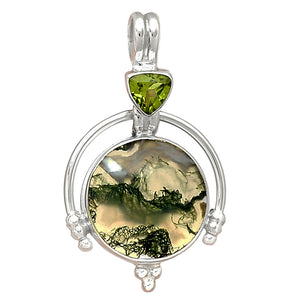 Green Moss Agate with Peridot gemstone pendant in sterling silver Gaia design.  This is such a beautiful stone, but the bail is not quite centered.  Hangs fine, but if you are picky, it will bug you.  That's why the price has been reduced.
Moss Agate meaning:
Moss Agate is not really an agate.  Agate forms in layers and has bands.  Moss Agate also doesn't contain any moss or plant matter.  It is a type of chalcedony with inclusions of mineral filaments.  The usual minerals are manganese oxide or iron oxide.  The clear or white areas are quartz. 
Green Moss Agate properties:
Moss Agate is an excellent stone for you if you know that you want more than just wealth, luxury and worldly success. 
Moss Agate metaphysical properties:
Moss Agate opens, clears, grounds and balances the lower chakras so that you can safely expand your higher chakras, inviting in more love and affection.  Moss Agate is a Venus stone.
Moss Agate healing properties:
Moss Agate releases regrets about the past.
Moss Agate pendant measures 2-1/2 inches long by 1/2 inch wide.  Great addition to your Moss Agate jewelry collection.
Peridot meaning:  
Peridot is highly under-rated.  It stimulates cell regeneration all throughout your body.  If you wear this pendant on a regular basis, it gradually triggers the release of all the toxins stored in your body.  You will also be in better communication with your higher self.  Vibrational medicine works better, such as homeopathic remedies.  Increases awareness with clarity, inspires optimism, and encourages patience.  Wonderful combination of Saturn and Neptune.