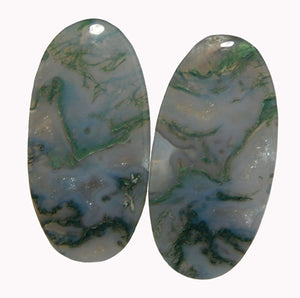 Very beautiful and very translucent elongated oval Green Moss Agate matching cabochons.  Each measures 12.5mm wide by 24.5mm long by 4mm thick.
Green Moss Agate properties:
Moss Agate is an excellent stone for you if you know that you want more than just wealth, luxury and worldly success.  Moss Agate opens, clears, grounds and balances the lower chakras so that you can safely expand your higher chakras, inviting in more love and affection.  Moss Agate releases regrets about the past.  Moss Agate is a Venus stone.
Moss Agate also increases awareness with clarity, inspires optimism, and encourages patience.