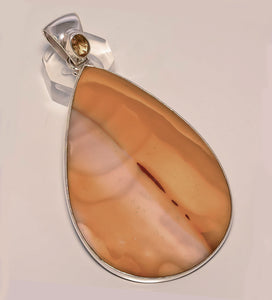 Beautifully-patterned Mookaite Jasper pear-shaped pendant in Sterling Silver setting measures 3.15 inches long.  The cabochon itself measures 40mm by 60mm.  The natural oval citrine measures 4mm by 6mm.
Mookaite Jasper properties:
Mookaite Jasper is for people out in the world expressing themselves: radio hosts, olympic contenders, actors, writers, prize fighters, singers, and musicians.  Mookaite Jasper attracts fame, authority, success and position as the culmination of a steady focus on what's desired.  
If you feel you've been plodding along, working towards your goal, start wearing Mookaite Jasper and witness all the right people, situations and events effortlessly fall into place.  Opportunities that demand more of you show up with Mookaite Jasper.
Mookaite Jasper is especially great crystal for Taurus and Capricorn ... two signs that tend to work harder than they have to.
Citrine meaning:
There is a lot of Citrine in France.  The name citrine is derivation of a French word, citron, which means lemon.  The gemstone is named after the fruit lemon because of its color.
Citrine metaphysical properties:
Citrine stone stimulates or activates the mental body and intellectual powers.  Citrine jewelry enables the wearer to formulate thought forms with greater clarity.  
Citrine healing properties:
Citrine has an overall tonifying effect.  Wear citrine if you need to safely detox.  Citrine also tends to amplify cell regeneration - a must after surgery or a burn. 
Citrine is a very desirable psychological tool as it tends to turn off self-destructive inclinations.