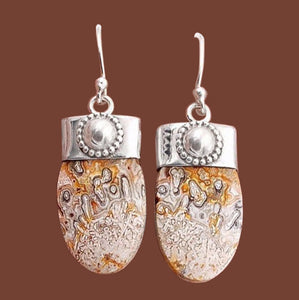 Mexican Laguna Lace Agate is also known as Crazy Lace Agate.  Crazy Lace Agate is mined in Sierra Santa Lucia, Mexico, which is why it is also known as Mexican Crazy Lace Agate.
Mexican Laguna Lace Agate sterling silver earrings.  Each earring measures 1.67 inches long by 0.52 inch wide at the widest point.
Mexican Laguna Lace Agate meaning and properties:
Mexican Laguna Lace Lace Agate is not for everyone.  It favors psychics, dreamers, musicians, dancers, and poets.  It creates the space in time where you can just hang suspended in the moment and tune in to what is really going on.  This is one of the best crystals for centering yourself, stilling your mind, accessing your Higher Self, and connecting with the Divine vision of yourself, others and the planet.
Mexican Laguna Lace Agate helps you go with the flow so that you naturally align with all kinds of fluidity, such as music, dance, dreams, poetry and psychic phenomena.