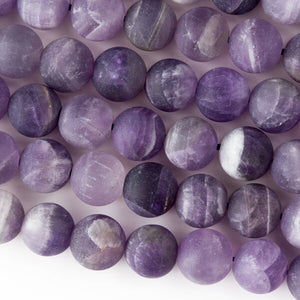 8 inch strand of matte Amethyst beads.  Round 10mm beads.  There are typically 21 natural gemstone beads per strand.  Matte gemstone beads are also called frosted beads.  These Brazilian Amethyst matte gemstone beads are more correctly semi precious gemstone beads.
Amethyst healing properties:
Amethyst is great for issues concerning pituitary, thyroid, thymus, and pancreas.  Balances metabolism.  Dissolves fatty tissue.  Also recommended for left/right brain hemisphere imbalances, i.e., epilepsy, dyslexia, coordination.  Enhances intuition.  Activates heart and third eye chakras, but also helps with sleep.  Fantastic crystal.  Amethyst turns into Citrine (golden color) when exposed to heat or light, so keep your amethyst earrings away from your windows to preserve the wonderful purple color.