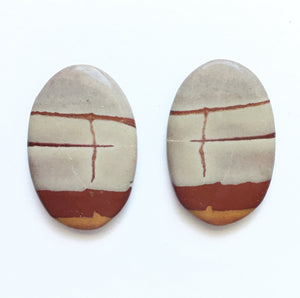 Chohua Jasper meaning:
Chohua Jasper looks like the perfect integration of art and business: paint brush strokes in sienna against a gray background.

Chohua Jasper metaphysical properties:
Stimulates the limbic system in a way that you can turn your visions into reality. This stone is all about good decisions, leadership, master of fate, inspired, generous, success and fortune.

Authentic Chohua Jasper from the Lijing River mine in China.  Also known as Chinese Writing Stone or Chinese Painting Stone

Cabochons measure 0.9 inch long by 0.6 inch wide by 0.14 inch thick.  AA quality.