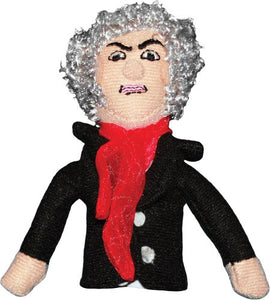 Ludwig Van Beethoven magnetic finger puppet about 4 inches tall.  Hide him in your pocket until the time is right. 
Great hostess gift and a sure hit as a fun birthday present that is also a conversation-starter! 
Make a revolution in music with your finger! This intense-looking Beethoven puppet may not be able to hear, but he knows good music when he writes it, or holds it against your fridge with his magnetic head. 
Product code 140.