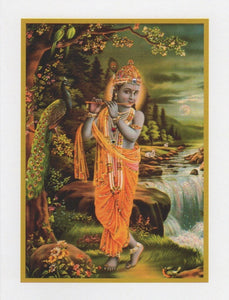 Lord Krishna is the 8th incarnation of Lord Vishnu.  He is the supreme statesman, warrior, hero, teacher, philosopher, and author of the Bhagavad Gita.  He has been called The Divine Ecstatic because the sound of Krishna's flute beckons souls to awaken and to become absorbed in the call of the Divine.
Four-color-process Krishna print along with other spiritual artwork prints are original illustrations by Tanya Sydney printed on high-quality photo paper.
Your Krishna print ships flat with cardboard in plastic sleeve.  
O Lord, protector of cattle, sea of compassion, consort of Mahalakshmi, the daughter of the ocean and milk, slayer of Kamsa, bestower of endless mercy upon the elephant chief in his distress, Maadhava known through contemplation, younger brother of Balarama, Lord of the three worlds, lotus eyed one, protector of the gopis, protect me, for I know not anyone but you.