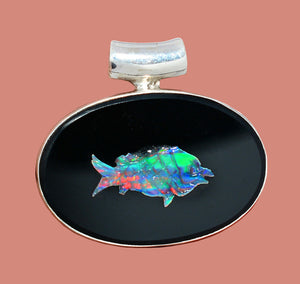 Sterling silver Black Onyx pendant with Opal inlay.
Carved Australian Light Opal set in natural Black Onyx in a Sterling Silver oval pendant.  The opal stone has been hard carved so that it sets in the black onyx with a slight relief profile.  Chain not included, but also sold on this site.
Black Onyx meaning: 
The name Onyx comes from a Latin from a word in Greek ὄνυξ, which means fingernail.  This come from the visual of beige onyx that can look like skin color with white bands.  The combination of colors looks like a finger with a fingernail.  
Onyx can also mean a claw.  And in the same way, a tiger or a wolf uses claws to protect itself, black onyx is the stone of protection.  So wear your black onyx stone jewelry when you need a little extra protection.
Black Onyx Stone benefits:  
Black Onyx is the crystal for amassing great power and a fortune that you then use to better the world.  It aids your goals, especially the philanthropic ones.  
Black Onyx healing properties:
Onyx is great for the heart, capillaries, kidneys, skin and nerves.  Recommended for stress reduction.  Black Onyx opens the first, third and sixth chakras.  Black Onyx also balances the feminine and masculine within a person.
Black Onyx metaphysical properties:
Androgynous stone that balances the yin and yang; the feminine and masculine qualities within oneself, relationships, a family, a company, and a community.  Encourages originality ... the kind that solves the impossible problems.  Great for issues of apathy, indifference and insensitivity.
Light Opal attracts abundance and allowance. Also and excellent stone for healing for individuals born between July 4th through July 13th.
The onyx area measures 30.5mm wide by 20mm. the pendant from the top of the tube bail to the bottom edge of the setting is 1 inches long and the width at the widest point is 1.2 inches. The tube opening is 3mm.  
Excellent addition to your collection of black onyx spiritual jewelry.