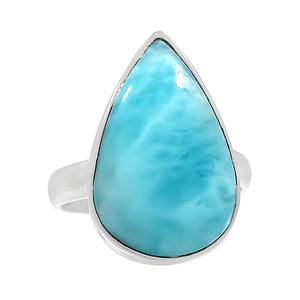 Excellent quality Larimar Stone cabochon from the Dominican Republic in a pear shape that invites good fortune.  Great addition to your collection of Larimar jewelry.  
Larimar meaning:
Larimar and silver helps balance masculine and feminine energies to receive more effortlessly.
Wear a Larimar Stone ring when you need clarity for making a wise decision, especially in matters of love, money, responsibility, business, and parenting.  
Larimar Stone lightens the mood, frees you from responsibilities that you do not need to shoulder, improves your ability to specify boundaries, and frees you from people and situations that seek to obligate, shame or involve you in something shady.  Larimar Stone is a great crystal for protection.