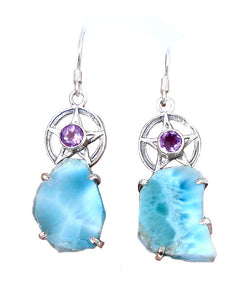 Natural Larimar and round faceted Amethyst pentacle earrings.
Great synergistic benefits from the blending of Brazilian Amethyst and Caribbean Larimar Stone.  
Beautiful, genuine, polished mini-slabs of Larimar Stone from the Dominican Republic.
Larimar meaning:
Larimar is also known as Dolphin Stone.  It is found in one place only in the world: the Dominican Republic.
Wear your Larimar Stone earrings when you need clarity for making a wise decision, especially in matters of love, money, responsibility, business, and parenting.  
Larimar Stone lightens the mood, frees us from responsibilities that we do not need to shoulder, improves our ability to specify boundaries, and frees us from people and situations that seek to obligate, shame or involve us in something shady.
Larimar Stone is a great crystal for protection.  
Larimar jewelry is a wonderful combination of Venus and Saturn.  
Pentacle meaning:
In Greek, gram means drawing.  The pentagram is the five-pointed star drawn inside of the circle.  The finished symbol of the pentagram in the circle is a pentacle, which is a magical symbol for Earth.
Amethyst meaning:
Wear Amethyst earrings when you need to add purple vibrational energy to your day.  Cayce wrote that amethyst calms the temper, enhances healing and fortifies one's energy when most needed.  Also improves sleep.