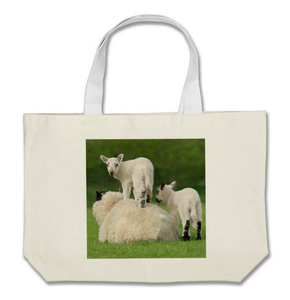 Lamb Standing on Sheep colorful jumbo-sized cotton tote - such a fun image.
Environmentally friendly tote that features a wide bottom.  You can take just about everything with you in this jumbo tote.  It holds groceries, books, kids' toys, beach stuff, you name it.
Made from 100% cotton, it has a squared off bottom and extra long natural web handles.   Measures 20 inches wide by 14.5inches high by 4.5 inches deep.
.