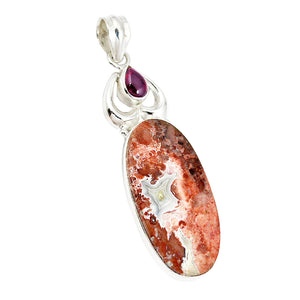 Laguna Crazy Lace Agate elongated oval shaped cabochon with small teardrop shaped Garnet pendant measures 2.46 inches long by 0.7 inch wide.
Laguna Crazy Lace Agate metaphysical properties:
Laguna Crazy Lace Agate favors psychics, dreamers, musicians, dancers, and poets.  It creates the space in time where you can just hang suspended in the moment and tune in to your highest truth.  This is one of the best crystals for centering yourself, stilling your mind, accessing your Higher Self, and connecting with the Divine vision of yourself, others and the planet.
It helps you go with the flow so that you naturally align with all kinds of fluidity, such as music, dance, dreams, poetry and psychic phenomena.
The word garnet comes from granatum, which is Latin for pomegranate.
Garnets are all about becoming comfortable with fame, enjoying life to the fullest, and being honored by your peers. This is a great gem for those in the entertainment industry.  Helps introverts feel more comfortable in public.