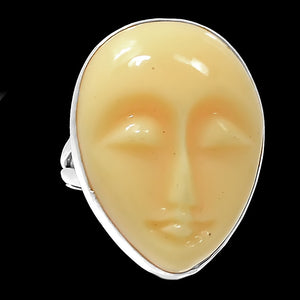 This moon goddess ring boasts a lovely carving of the face of the moon goddess Diana.  Also referred to as a Lady Diana ring (not to be confused with Princess Diana).  The hand-carved yak bone cabochon of this carved bone ring measures 20mm wide at widest point by 27mm long.  Sterling silver setting ring size 7.75.  
Goddess Diana meaning:
Diana is the name the Romans gave to the Greek goddess of the hunt, Artemis.  She is a moon goddess  who is strongly associated with primal processes and nature, protector of the plant and animal kingdoms.  In Greek mythology, Artemis is the daughter of Zeus and Leto.  Her brother is the sun god, Apollo.  When Rome adopted Artemis as their own moon goddess, Diana, they gave her their own version of her history.  Diana is usually depicted as one of the three goddesses that constitute the feminine principle, i.e., a female triple deity or the triple goddess.  The other two goddesses are Luna and Hecate.  Together, they make up the maiden, the mother and the crone.  Oftentimes a triple goddess ring has a crescent moon pointing outward flanking the sides of a full moon.
She is an important goddess in neo-pagan worship, such as Wicca.  This is a great Wicca ring for a Wiccan friend.