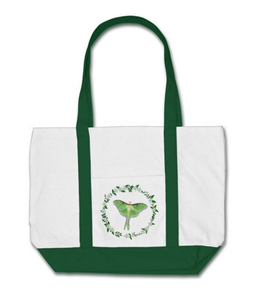 Kyle MacDuggall's original illustration of a Luna Moth printed on a two-color cotton twill canvas tote.
Environmentally-friendly tote that features a Cypress Green bottom and straps. 
Great for the beach, shopping or as a more casual athletic bag.
12 ounce weight cotton twill with Cypress Green cotton-web handles which have sress-point reinforced stitching.

Tote measures: 18.5 inches wide by 13.5 inches high by 5.5 inches deep.  
This large capacity tote bag looks great and is tough enough to stand up to stuffing, hauling and washing. 
The Actias Luna Moth has a wingspan up to 4-1/2 inches.