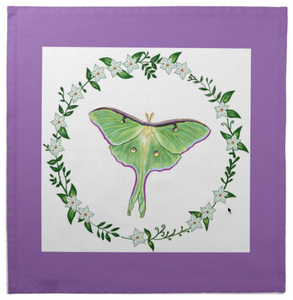 This is a 20 inch by 20 inch hemmed, professionally-printed cotton cloth printed with original art of a green and Luna Moth encircled with jasmine blossoms and framed with a purple border.  Original illustration by Kyle MacDuggall.
Perfect for tarot reading or as a topper for a small table.  
The Actias Luna Moth has a wingspan up to 4-1/2 inches.