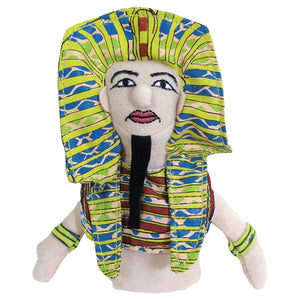 King Tut magnetic finger puppet that measures about 4 inches tall.  Makes a great hostess gift and a sure hit as a fun birthday present that is also a conversation-starter!
King Tutankhamun must have been a really good guy because he moved at least twice and he never had to pay for movers.  And not only was there no elevator, he had a lot of heavy stuff.  Tut ruled Egypt for only 10 years, but his legacy lives on as a finger puppet.  Perch this little Pharaoh on your finger and let him rule.  Then put him on the fridge and let him have a little down-time.  
UPG finger puppet or philosopher finger puppet.
Product code 138