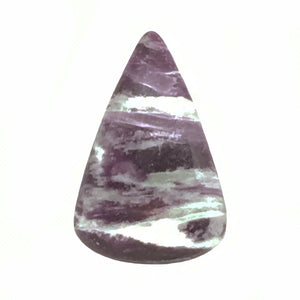 Kammererite 19.5mm by 37.2mm triangular shaped cabochon. 
Nils Gustaf Nordenskiöld, a Finnish mineralogist, named this stone in 1841 in honor of August Alexander Kämmerer, a German geologist who founded the first pharmacy in St. Petersburg, Russia.  
Kammererite contains chromium and is a type of chlorite whose name comes the Greek word klino for its tilted oblique axis  and the word chloros, which means green.  The name Kammererite distinguishes this mineral as a magenta rose red color. 

This crystal enhances imagination, energy, vitality and a connection to higher consciousness.