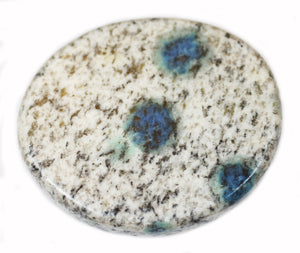 K2 is deposits of Azurite in Granite oval disk.  Sometimes misspelled as azzurite granite.
K2 is the name given to this newly discovered crystal comprised of round Azurite deposits in a granite matrix (actually the composite is Manganese, Titanium, Strontium and Chromium).  The name K2 was derived from the location of the deposit at the foot of the 2nd highest mountain in the world: K2.  (Mt. Everest is the highest.)
Here we have Azurite, the crystal of vision for other's paths and singer of praises to Spirit, surrounded by gray Granite, a matrix of material reality that Azurite must transcend. And it does so easily when it allows Granite to be what it is.  K2 allows one to move through the darkness of doubt untouched.  Hold it to preserve the integrity of your dreams and goals.  K2 rock reassures our mind and heart that we have our dreams because they are attainable.  
Weighs 1.5 ounces and measures 2.03 inches by 1.75 inches by .36 inch thick.  
Product code 10C.