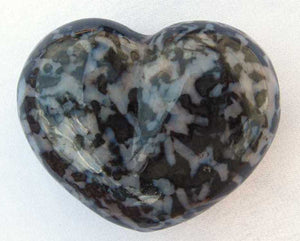 Indigo Gabbro 6.1 ounce puffy heart from Madagascar.  Actual measurement of heart at widest point is 2.73 inches (does not include fullness of heart).
Indigo Gabbro is also called Merlinite Dendritic Opal, Indigo Gabbro Mystic Merlinite, Merlinite Opal, Gabbro Merlinite, Mystic Merlinite, Merlinite Stone, Merlinite Indigo Gabbro, Black Merlinite, and Merlinite Dendritic Agate.
Gabbro / Mystic Merlinite meaning:
Gabbro is of a bunch of different minerals such as Feldspar, Magnetite, Chlorite, Serpentine, Hercynite, Muscovite and Pyroxene in a charcoal-colored matrix.  Sometimes, there are also traces of Actinolite, Biotite, Olivine and Chrome Garnet. 
Indigo Gabbro / Mystic Merlinite properties:
Indigo Gabbro metaphysical qualities helps those who worry about too much about the suffering in the world to trust a higher power to see to those individuals' needs and prayers.  It brings about a beautiful balance between the heart and the mind.  
Indigo Gabbro is an excellent crystal for those who want to align with the infinite resources of the All so that they may generously give where needed.  
Product code 7C.