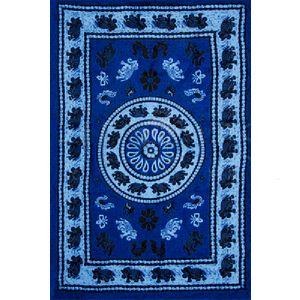 Indigo Elephant Mandala Sarong 45 inches by 62 inches soft wrap sarong features decorative paillettes and fringed ends.
Made from fast drying, breathable, 100% rayon in indigo blue.  
Mandala meaning 
The word mandala comes from a Sanskrit word for circle.  Different mandalas mean different things and have different purposes depending upon the design and its geometry, the colors and the cultural interpretation.  Most often, it is used for purposes of meditation as a point of focus.  The mandala embraces the sacred order of things on a cosmic and psychic level.
Sarongs travel well, look great, and feel fantastic.
Made in Indonesia.  Fair trade establishment.
Product code 35.