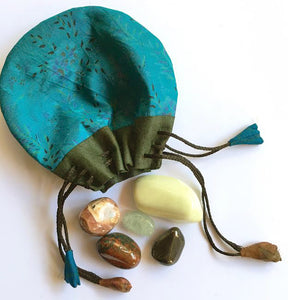 Do healing crystals work?  These high vibration crystals do.  
These particular pocket crystals possess a synergy that works wonders.  These pocket stones are small, but mighty!  Whether you get this bag of healing crystals for you or a friend, you'll find these natural, untreated stones to be the types of healing crystals that bring relief and address many of the healing crystals purposes. 
You'll find the included crystal ritual gets real results.  And this bag of crystals fits nicely in a pants pocket, jacket, handbag or suitcase.  Carrying crystals in a pouch keeps your intentions on track. 
You will love these crystals and their powers.  They make instant, excellent gifts for friends and family that need crystals for pain relief.  
Healing Stones Master Kit comprised of tumbled crystals for healing that include aquamarine, bloodstone, citron chrysoprase, fossilized algae and rhodochrosite.  Below is a list of these healing crystals meaning.
Aquamarine:  Strengthens the liver, spleen, stomach and kidneys, but as a part of this group of stones, it also works on reducing fluid retention, nervousness, a chronic cough, and issues concerning the teeth, jaw, thyroid, throat, neck and thymus.  
Bloodstone (Helitrope):  Positively impacts the bone marrow, spleen, heart and reproductive organs.  First stone to grab for bad stomach cramps.  
Citron Chrysoprase: Excellent for reproductive system health and easing depression.  Also recommended for gout.
Fossilized Algae:  A wonderful grounding stone that gets you centered so that you can be strong.
Rhodochrosite:  Excellent for kidneys, pancreas and spleen.  Recommended for pre-diabetes.
Fun and effective ritual: You'll need a blank piece of paper, a pen (with green ink if available), transparent tape, a plain drinking glass (clear glass without decoration or engraving), fresh water, a straw, and the stones above. 
Write the following words on a piece of paper that is the right size to tape onto the water glass: balance, love, peace, harmony, acceptance.  Tape the paper with the written words onto the glass. 
Carefully, lower the stones into the glass.  Now fill it with fresh water and set it in the sun for 20 minutes or so.  Add a straw.  As you sip all of the water, imagine yourself strong, healthy and fit.  
How to use crystals for headaches:  
Lie down flat without a pillow, face up.  Place the Fossilized Algae between your abdomen and pelvis.  Place the Bloodstone over your bellybutton.  Place the Rhodochrosite over your heart.  Place the Aquamarine over the hollow of your throat.  Place the Citron Chrysoprase over your third eye. 
Breathe in slowly so that you fill up your abdomen instead of your chest.  If you feel your breathing will cause the Bloodstone to fall of, hold the Bloodstone in your right hand instead of keeping it over your navel.  Breathe out slowly.  Now breathe in as you slowly count from one to five in your head and then exhale slowly as you count down from five to one.  Do not rush breathing out.  
Even if it strikes you as a silly thing to do, talk to the crystals and ask them to release your resistance to your feelings.  Then continue with the breathing for about two minutes.  Then sit up and drink a glass of water unless you prefer to go to sleep.  
Other applications for these shaman crystals:
Healing crystals for bronchitis.  Place in your drinking glass.  Purchase a piece of tumbled Lapis Lazuli to have on hand to add to this group for specifically treating bronchitis.
Crystals for inflammation.  Put these in your bath or a foot bath.  Purchase a piece of tumbled Moss Agate or Fluorite to have on hand to add to this group for specifically treating inflammation.
Crystals for healing depression.  Place in your drinking glass.  Purchase a piece of tumbled Botswana Agate or Moss Agate to have on hand to add to this group for specifically addressing depression.
If you've been wondering where to buy crystals online, rest assured that we know our sources and that we only sell natural crystals unless specified otherwise.  We buy domestically-mined crystals whenever possible.  We hand-select most of what we sale.  And all crystals are returnable for as long as we are in business.